I'm usually really good about posting to my blog every day or every few days however, I've been super busy this week. This post is going to seem like an eternity!
Last Saturday, my friend Will's parents, Ann and James "Jim" Harathas, were honored by the
Art League of Houston
.
Click on this photo for additional information about the gala: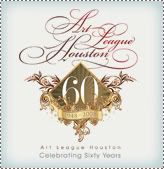 Here are some pics of us at the gala:
The gala was nice. Mayor Bill White of Houston was present and spoke to everyone about how important it is to support the arts in Houston. Yada, yada, yada! Of course art is important! It's everywhere! What would the world be without a bunch of crazy artists? I'm one of them!
My friend Sophia has ordered quite a few holiday gifts from me as well as some holiday cards. Here are a few of the items I made for her:
The photo's above are only a few of the things I made for her. I actually made her a total of 20 handmade holiday cards and 4 additional hand embroidered children's garments. She's also in a family grab bag for Christmas (she's Jewish however, has gotten sucked into a family grab bag for Christmas) and the spending limit is $50. She told the person who drew her name that she wanted more cards. They contacted me last week and are going to place an order for her. Yay! I love making the cards. I'm going to make the next batch of cards cutsy, all purpose cards.
I also made this cute little felted cuff bracelet. I purchased the felt body at an estate sale. I'm not quite sure what it used to be, but I immediately saw beauty in the item and just knew I could make something with it. The body is made of black felt and there are copper grommets on the outer edge. I added a piece of black velvet for a strap as well as a clasp.
I'm keeping this one for myself and I have one additional piece that I will make to sell. If anyone is interested, I will sell the additional felted cuff for $20. I'll add it to my
site
within the next few days.
Thanksgiving was good. I invited people over for dinner because everyone already had lunch plans. I made a ton of food and by the time everyone came over, they were so stuffed from lunch. I didn't take any photo's of the food, but everything turned out so yummy! I made a turkey with a basil/rosemary butter paste, ginger and nutmeg smashed sweet potatoes, bleu cheese mashed potatoes, green bean casserole, homemade cranberry/apple/walnut sauce, stuffing with roasted chestnuts/celery/apples, deviled eggs, stuffed celery and two pumpkin pies. I took the pies up to Justin's work today because I'll eat them if they're here and that would be no bueno!
Lastly, several weeks ago I posted that I was selling my vintage clothing business. I was going to try to sell off my entire inventory to one person however, I don't see that happening. I'm open to selling the pieces off individually or in lots. If anyone is interested in getting some great vintage for a steal, let me know.