I know I posted a few days ago and said I would follow up with a craft post later this week. I've been so busy. I've signed up for several different places to contribute samples to this holiday season. One place is at
The Purple Box
.
I finished 75 samples for them last week and shipped them off last Friday. I've also just finished making 100 samples for
Shop A Holic Events
. I need to ship those off first thing on Monday. Lastly, I contacted the girl in charge of
The Little Black Box
and told her I wanted to participate with their box as well. I am still waiting on her second reply for address info (where I need to send my items).
I typically work in my office/work room, but since I'm making so many samples right now, I moved all my stuff to our kitchen table. I have to be able to keep an eye on Dominic and that would be quite difficult right now if I had to work in my room. I've taken some pics of the massive mess on my table as well as some of my samples:
Talk about a mess! It's amazing I can even find anything in this mess.
I've also made a ton of vintage button rings!! I think I have nearly 175 in this box and I still have a ton more to make!
As you can see, I've been really busy this week. I've also made some really cute greeting cards as well. I think I'm going to make more greeting cards tomorrow.
I also listed quite a few items on eBay today. Check out my store for some great deals: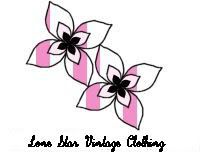 . Mention this post and I'll discount your invoice 15%. Mention "15%OFF" and I'll revise your invoice!